My name is Rebecca Lemker, I am an Illustration and Graphic Design double major at the Savannah College of Art and Design in Savannah Georgia. This blog post is symbolic of the launch of my new website, blog, and portfolio: RLemker.com
This website was created through heavy modification of the Themetrust WordPress Theme Uber, which initially looked something like this: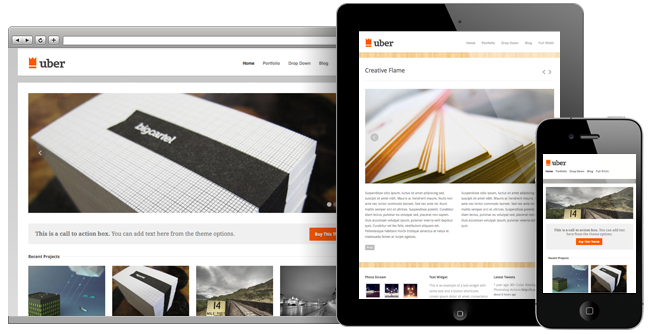 I used a heavy amount of CSS editing to give the Uber theme a major makeover so that it that fits my brand and personal style. I even contracted some outside help for some work on the PHP and javascript, which resulted in the attractive description excerpts that you get whenever you hover over a thumbnail in the portfolio section or on the home page. The finished site is also entirely responsive.
Building Rlemker.com truly stretched my CSS3, HTML5, WordPress, and responsive web design skills. I learned a lot through the development of this website, a fact which is obvious when it is compared to the previous 2 iterations of RLemker.com:
Versus the New
The new RLemker.com supports many different kinds of image orientations, allows me to post multiple images, and gives me the freedom to add text descriptions to my portfolio. It also is fully responsive for iPhone and Android, and supports a blog, flickr feed and has a streamlined uploading process. It is a website that is built to last!
But what is RLemker.com?
This website serves as my personal portfolio showcase for graphic design, game development, pixel art, and illustration. I create a wide variety of digital art for a large body of clients and various independent projects. In my portfolio you will find a large body of work, including:

Corporate Branding
Typography
Package Design
Infographic Design
Logo Design
Web Design
Illustration
Character & Environment Design
Pulp-Style Illustration
Printmaking
Pixel Animation
& Fine Art
I also intend to use the built in blog portion of my website to post small updates on different techniques, process work, and my thoughts on the different lectures and speakers I have the privilege of attending at SCAD Savannah.
Stay tuned for more posts and new projects!